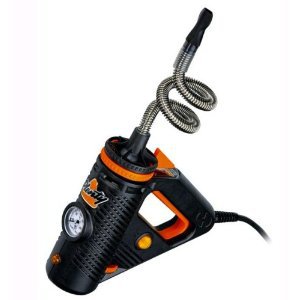 I just got one of these and it is awesome!
It's not a replacement for, but a nice complement to the Volcano. Warms up quick – great vapor – totally silent! Portable! Love it!
The extra long cord allows it to be passed around easily. You can fill it up and take a few pulls now and then, stretching a chamber's worth of herb out for the whole day. I also feel like the vapor is not as dry on my throat. Beautiful craftsmanship – a work of art.
The New PLENTY Vaporizer from Storz & Bickel Germany, makers of the world class VOLCANO! The PLENTY is a power vaporizer (110 Volt – plugs into standard wall socket), designed with performance in mind. Silent operation is provided without pumps, fans, or balloons. The industry first Cooling Coil ensures cool airflow without compromising aroma. The double-helix heat exchanger is built to give you consistent, reliable temperature control. 3 Year Warranty!